Marta Kwaśnicka wins Marek Nowakowski Literary Award
Data publikacji: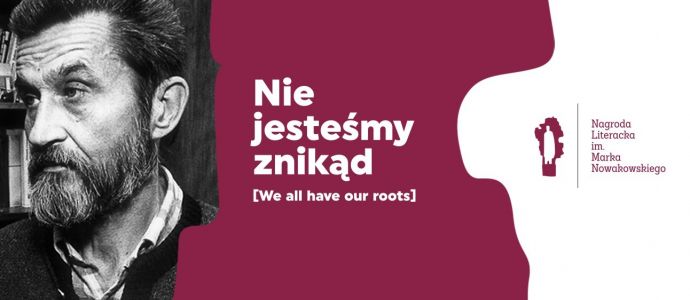 The 2020 Marek Nowakowski Literary Award has been won by Marta Kwaśnicka, author of Pomyłka, a collection of short stories.
The jury, comprising Maciej Urbanowski (chair), Włodzimierz Bolecki, Wojciech Chmielewski, Janusz Drzewucki, Irena Makarewicz, Krzysztof Masłoń and Mateusz Matyszkowicz, praised Kwaśnicka "for her sophisticated literary analysis of human identity, breathing new life into psychological prose in the best tradition, her finely crafted stories in the form of narrative miniatures, for broadening the formula of storytelling to include new possibilities in terms of genre, and for fashioning an original portrait of the younger generation growing up in an independent Poland."
Marta Kwaśnicka is a writer, critic and editor. She is the author of three literary works: Krew z mlekiem, Jadwiga and Pomyłka. For the first of these she received the Identitas Award for Literature, the Four Columns Literary Award and was nominated for the Józef Mackiewicz Literary Prize. For Jadwiga she won the Skrzydła Dedala Literary Award (Wings of Daedalus Literary Award). Her works have appeared in The Tablet, Christianitas, Nowy Napis, Arcana, Pressje and Kontexty. From 2011-2017 she lectured on cultural history at the Pontifical University of John Paul II in Krakow.
The Marek Nowakowski Literary Award
The Marek Nowakowski Literary Award was created by the National Library of Poland in 2017, three years after the death of the author for whom it is named. The motto of the award is Nowakowski's words, "We all have our roots". The prize is awarded for a story or series of stories characterised by unconventional views, courage and precision of thought, and beautiful writing. The award is notable in that it recognises literary mastery of the small form and the challenges it presents.
Winners are selected each year by a jury appointed by the Director of the National Library of Poland, in consultation with the writer's widow, Jolanta Nowakowska. The winner receives the award statuette, designed by Professor Maciej Aleksandrowicz, a letter of congratulations and prize money provided by the National Library from funds donated by International Paper, the patron of the award.
More about the Marek Nowakowski Literary Award
More about the Marek Nowakowski Literary Award Marek Nowakowski (d. May 16, 2014) was an outstanding prose writer, full of respect for the written word, a master of storytelling with an extraordinary ear for language, a publicist with great social sensitivity, a cat-lover and aficionado of the streets of Warsaw, who knew the lives of the city's people intimately. In 2012 he donated a significant part of his archive to the National Library of Poland.
Laudatio for Marta Kwaśnicka, author of Pomyłka, by Professor Maciej Urbanowski, chair of the jury
Last year was a very successful one for Polish short stories. Excellent collections were published by Wojciech Chmielewski and Paweł Sołtys, previous winners of the Marek Nowakowski Literary Award who will be well known to you. Volumes by Maciek Bielawski, Jan Polkowski and Jakub Michalczeni were also very well received. Andrzej Horubała's Mniszek captured the imagination of many readers. Interestingly, there were successful debuts in the field of short stories by three women writers: Aleksandra Majdzińska, Joanna Burgiełł and Joanna Rudniańska.
However, the work that impressed myself and the other jurors for the Marek Nowakowski Literary Award most was Marta Kwaśnicka's Pomyłka. It impressed us, but it also surprised us – for the simple reason that many of us knew Marta Kwaśnicka first and foremost as an outstanding, award-winning essayist, whose works had even been translated into foreign languages. For example Krew z mlekiem, a collection of sketches about literature and culture, or Jadwiga, a biographical essay on Jadwiga of Poland, monarch and wife of Władysław Jagiełło. These books demonstrate Kwaśnicka's uncommon erudition, her extraordinary imagination allowing her to roam freely through Polish and European culture of past eras, her precision of mind and her stylistic subtlety. But nothing had suggested that she would also be interested in the less expansive form of the short story. More attentive readers of the literary press had perhaps noticed two short stories of hers on the pages of Topos and Arcana a few years previously, but not many of us, I think, expected such an extensive and interesting collection of short stories as Pomyłka when it was announced last year.
Pomyłka is surprising for another reason, too. It is advertised by the publisher as a collection of short stories, a fact confirmed by the writer herself in her short afterword to the book. Yet it actually contains thirteen works of differing lengths. The shortest – like Telefon or Pat – is just ten pages long, the longest – Lawa and Triumf – fifty pages or more. Each of these works forms a separate whole and can be read as such. Kwaśnicka, or rather the narrator of her stories, usually spins her story around a seemingly banal event from the past. It might be a game of chess with a London bookseller while waiting for the coach to Poland, a visit to an optician's or a family birthday party. Often an object plays an important role in the story: a telephone in the tale that opens the collection, an empty vodka bottle in Moskiewska, an old piano in Ignaz, the titular lift in Winda. Each of the stories seems to have a distinct moral in mind, as if they were parables of a sort. But at the same time almost every work in the collection represents a different type of short story. The final story in the volume, Owoc, is a quasi-biblical apocrypha. Moskiewska is like a satirical drawing on some aspect of everyday life. Szmaciarz is a traditional novella. Lawa and Triumf balance delicately between self-portrait, memoir and essay.
Each of these works stands alone, and yet at the same time is connected with the others in the collection, creating an overall, intricately constructed story composed of thirteen different elements. This connection arises first of all from the fact that each story has the same first-person, female narrator, who is also in most cases the protagonist. This is a young woman who tells us about what we assume are the most important events in her life, reflecting on them, commenting on them, analysing them and at the same time putting them in some sort of order – which also gives Pomyłka a certain chronological and at the same time novelistic structure.
Is the protagonist of Pomyłka Marta Kwaśnicka herself? Is the book we have chosen to honour an autobiography in short-story form? In her afterword the author warns against such a reading – or rather against assuming that this is the only possible reading. She writes: "[...] in literature, regardless of whether the work is autobiographical or not, the most important thing is always the world and how it influences the author. Pomyłka is not so much a story about me as a story about a representative of a certain generation, a person born at the wrong time, lacking the right connections, forced to take a stance on a whole series of disappointments".
Of course, the two readings are not mutually exclusive. We can read Pomyłka as a thinly veiled autobiography by Kwaśnicka and at the same time an attempt to draw the portrait of a generation – Balzac's Lost Illusions in short-story form combined with Gombrowicz's Bacacay. And to some extent A Portrait of the Artist as a Young Man, de Musset's The Confession of a Child of the Century and Andrzejewski's story of a "lonely generation".
I mention these literary classics because the protagonist of Pomyłka is herself aware that the stories she tells are to some extent a repetition of experiences already related by Balzac and Stendhal, say. Stories about oversensitive, talented "neurotics" and "provincial types", Julian Sorels from Stendhal's The Red and the Black who clash with the ruthlessness of the world, in the process losing their childish naivety, suffering defeat after defeat, and either dying, capitulating or emigrating...
Kwaśnicka's tale is a classic one, but she tells it in a formally original manner. At the same time she makes us look at it – and again this is not so common – through the eyes of a woman. And finally she brings the classic tale of a neurotic individual struggling with modern versions of Flaubert's Monsieur Homais up to date, saturating it with details from modern life and piercing it through with reflections that reveal the spiritual dimension of this reconstructed story of a homeless generation.
Kwaśnicka's work shows no trace of that unbearable nostalgic baggage that we find in some of her literary peers and predecessors – that tired, cloying sensitivity that wants us to sigh over the taste of ice-cream remembered from our childhood or the sight of a much-loved Barbie doll. Yes, Kwaśnicka's heroine is able to describe with the precision of a realist a black ebonite phone or a lift from Poland's socialist past. But she is more interested in the "fate" of her generation, the non-material, perhaps even metaphysical dimension of its loss of illusions.
The fate ascribed to that generation is thus more than just a life lived on credit and zero-wage contracts, constant relocation, emigration, a feeling of homelessness, helplessness, defeat or dislocation in time. "It was as if, in my thirteenth year, a string of beads had broken and the beads threaded onto it scattered all around", says the heroine of Ignaz. But she experiences doubts about God, she asks about evil, about her identity, about love and the meaning of art, and about the place of a woman in a male world – a question that is particularly important to the heroine of Pomyłka. Not all these questions are answered, but the story as a whole leads us towards a far from obvious, in a sense "masculine" happy end: accepting one's fate, affirming ones roots and simply being the person that one is. The title of the collection – Pomyłka means "mistake" in Polish – is ambivalent in the context of the book as a whole. Is the mistake the heroine and the life of her generation? Or is it perhaps an assessment of a certain basic attitude towards the world, confirmed by the final story in the book, a parable about a fig tree and the patience needed when waiting for its fruit?
Several times during the meetings of the jury and just afterwards, one of the jurors described Kwaśnicka's book as "enchanting". In this choice of words I sensed, perhaps incorrectly, a kind of malicious, maybe even slightly patronising irony. "Enchanting" – charming, pretty, maybe slightly saccharine? Pomyłka is far from that: it contains much bitterness and no hint of ingratiation. When Kwaśnicka's heroine wants to talk about highly intimate matters, she hides, like Gustav Herling-Grudzinski, behind the "mask" of the Renaissance poet Vittoria Colonna or the Spanish essayist Azorín. Kwaśnicka is never blunt: she does not deal in physiology or descend into vulgarity. But her style is characterised not so much by elegance – "the elegance of style is certainly not enough" writes the heroine of Pomyłka, paraphrasing Azorín – as by precision and close attention. "Only when one person loves another person are they completely focused on them. They sense their needs, they want to make them happy, they pay attention," we read in Lawa. In this sense then, yes, Kwaśnicka's prose is "enchanting": it grows out of her enchantment with the world, her keen observation and analysis of it.
What has that got to do with Marek Nowakowski, you ask? The answer, as we have often said before, is that the award is given to authors – such as today's winner – of outstanding, interesting, original stories, and not to followers or imitators of the man after whom it is named.
The estimable Janusz Drzewucki has drawn attention to the importance of memoir-like and autobiographical elements in Nowakowski's prose, too. Notable examples include not only his literary autobiography Pióro but also the outstanding Powidoki and Portret artysty z czasu dojrzałości (published in 1987).
Like Nowakowski, Kwaśnicka writes great descriptions of a city, or rather cities. In two pieces in Pomyłka she paints a highly evocative yet bitter-sweet portrait of Warsaw. Elsewhere we find skilfully drawn depictions of Krakow, Rome and even London. Ultimately the heroine chooses Krakow – a choice that pleases me personally and, I think, would not have upset Nowakowski too much.
The story in the collection most reminiscent of Nowakowski – or at least most obviously so – is Szmaciarz, a moving, succinctly told tale about a man who collects used cans on a Krakow tram and the fear and disgust he arouses among the passengers as he shouts incoherently about a life ruined by betrayal during Poland's socialist past.
Also reminiscent of Nowakowski is the story Moskiewska, which portrays a Polish province living in the shadow of the past, insecure about itself, half ridiculous, half terrible in its view of the world shaped by conspiracy theories.
Ultimately, Pomyłka as a whole shares something with Nowakowski in its attempt to understand a generation of "superfluous people", in its striving to understand what has led them to the fringes of society and to show that these fringes are not always synonymous with failure – indeed, that sometimes they are where the greatest victories occur.
I said at the outset that Pomyłka surprised us, the jury. I hope I have also been able to explain, at some length, why it also impressed – and delighted – us.
My congratulations to you, Marta Kwaśnicka, on this well-deserved award.