Exhibition Ballads and romances opened by First Lady of Poland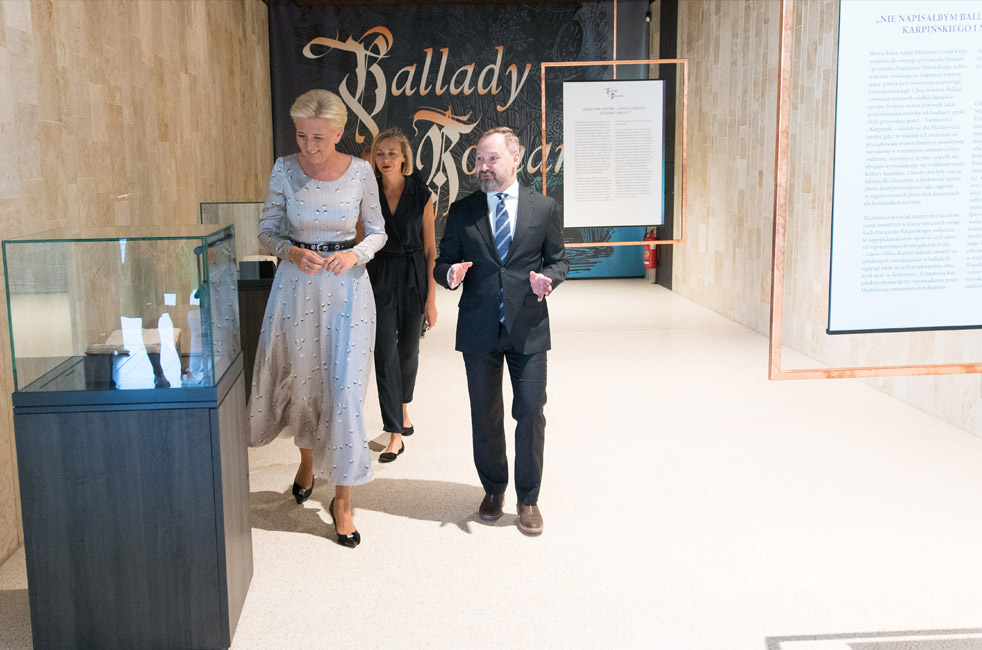 At midday on Friday, September 2, 2022 the First Lady of the Republic of Poland, Agata Kornhauser-Duda, opened the exhibition Ballads and romances at the National Library of Poland. Ms Kornhauser-Duda was accompanied by Wojciech Kolarski, minister in the Chancellery of the President of the Republic of Poland.
The First Lady opened the exhibition in the new reading rooms of the National Library and subsequently toured the exhibits. The exhibition's title Ballads and romances refers to the collection of ballads written by Polish poet Adam Mickiewicz in 1822. It presents many interesting objects relating to this seminal work that ushered in the Romantic era in Poland. A first edition of the work forms part of the exhibition, along with illustrations, early translations into foreign languages and musical scores inspired by individual works in the collection of ballads.
After viewing the exhibition, the First Lady and her companions toured the new reading rooms of the National Library, which formally opened at the beginning of the year.
The First Lady then met with people at the National Library involved in helping libraries in Ukraine, and the organisers of the free Polish language courses offered to Ukrainian refugees. More than 300 individuals are currently attending the courses. The meeting was also attended by a number of librarians from Ukraine who were employed by the Polish National Library following the Russia invasion of February 24, 2022.
During the visit Ms Kornhauser-Duda was shown a manuscript of Kornhauser's Wiersze i zapiski. Zeszyt 1 (Poems and Notes. Notebook 1) written by her father, the eminent poet Julian Kornhauser.
Ballads and romances opened on the eve of Narodowe Czytanie, a national reading event held under the honorary patronage of the Presidential couple.