The Warsaw Ghetto Uprising in documents relating to everyday life in the Ghetto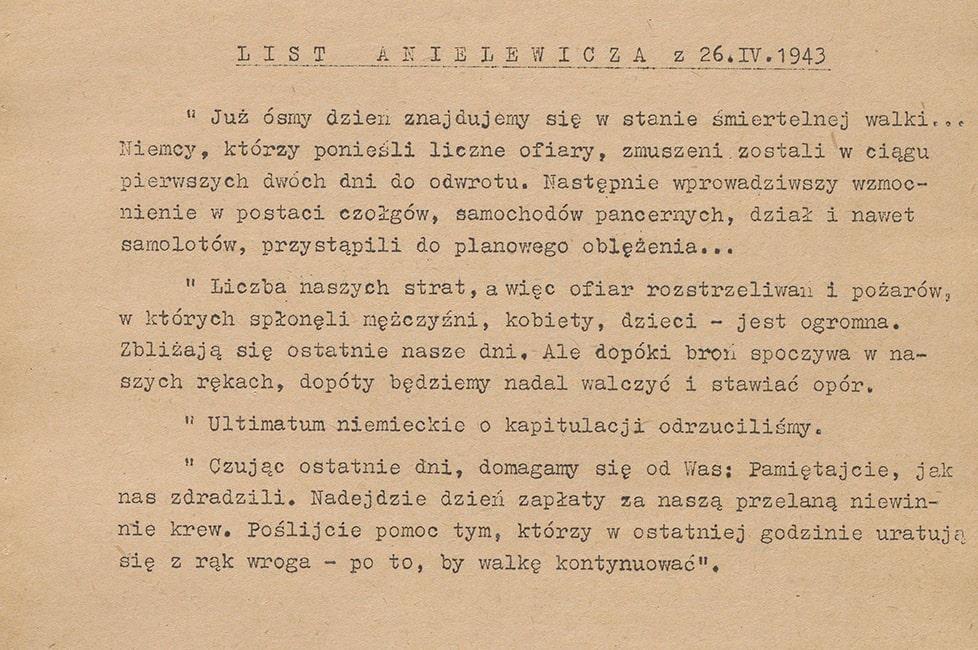 The Warsaw Ghetto Uprising began on April 19, 1943, the eve of the Jewish holiday of Passover, commemorating the liberation of the Israelites from slavery in Egypt. On the 80th anniversary of the Ghetto Uprising – the largest armed Jewish uprising during World War II and the first uprising in a city in occupied Europe – the National Library of Poland presents a collection of documents relating to everyday life in the Ghetto.
The Jewish ghetto in Warsaw was created on October 2, 1940 by order of the Governor of the Warsaw District, Ludwig Fischer. The Germans forced more than 400,000 Jews to live within its bounds. Walls were built around it on November 16, 1940, enclosing an area of around 307 hectares. This area comprised the Large Ghetto and the Small Ghetto, separated by a stretch of Chłodna Street and Mirowski Square. In an extensive operation lasting from July 22 to September 21, 1942, the Germans gradually deported those imprisoned within the Ghetto to the Treblinka extermination camp, where almost 300,000 Jews from Warsaw perished.
In the autumn of 1942, during the Germans' attempt to finally liquidate the Ghetto – by this time there remained around 50-70,000 people within its confines – the Jewish community decided to actively resist. An uneven fight against the German occupiers ensued, led by units of the Jewish Combat Organisation (ŻOB) and the Jewish Military Union (ŻZW). The tragic and ultimately hopeless efforts ended with the collapse of the Ghetto Uprising on May 16, 1943. Only a few dozen insurgents managed to escape from the burning Ghetto. The total number of victims of the Ghetto Uprising is estimated to be around 400,000 people.
This collection of documents includes items relating to the creation of a Jewish quarter in Warsaw and how day-to-day life was organised in the Ghetto, including ephemera, maps, press materials and studies, as well as diaries and memoirs illustrating the nightmare of life during the Second World War. The fate of the Ghetto's inhabitants can also be traced through further sources such as the German announcement of the creation of a ghetto on October 16, 1940, the proclamation of the death penalty for anyone leaving Jewish residential areas without authorisation, published on November 10, 1941, and the final proclamations by the ŻOB, including a letter from the heroic commander of the Jewish insurgent troops, Mordechaj Anielewicz, who headed the organisation, signed on April 26, 1943.