A Ukrainian flag for the National Library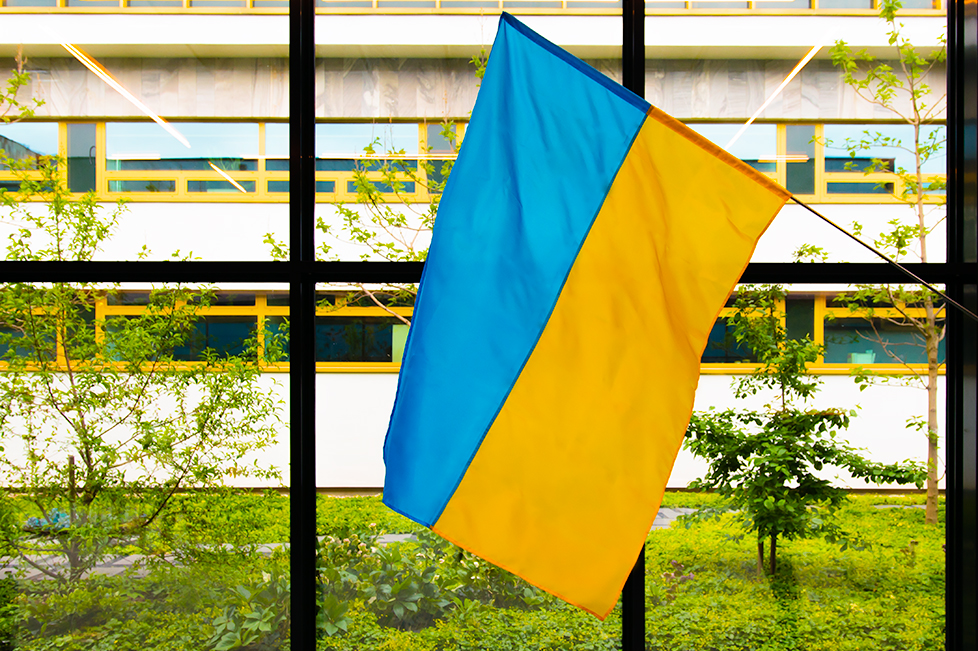 On Sunday, May 7, the National Library welcomed three representatives of the Ukrainian Library Association who had been participating in the conference New Experience of Libraries in the Context of Environmental Change in Lithuania, namely Ivanna Shcherbyna (Director of the Library of the Solomyansky District of the Central Library, Kyiv) and Anastasia Litashova and Kateryna Kosynska, both of whom are actively involved in the youth section of the Ukrainian Library Association.
Ivanna Shcherbyna presented General Director of the National Library Tomasz Makowski with a Ukrainian flag in recognition of the support provided by the National Library.
The flag was sewn by the mother of a close friend of the Library of the Solomyansky District of the Central Library, the military writer Maxim Petrenko. In civilian life, Maxim is a computer scientist, researcher and head of a Computer Engineering department. In 2014 he was one of the first to volunteer to defend Ukraine, serving two years in the Serhiy Kulchytsky Battalion of the National Guard. In 2016 he returned to civilian life and wrote a book about his military experiences. On the morning of February 24, 2022 he returned to the army. He went missing in action during fighting near Izium in June 2022 and as of today his fate is unknown. The Library of the Solomyansky District is in close contact with Maxim's mother, whose voluntary work helps her deal with the pain of not being in contact with her son or knowing his fate. The flags she sews are sent to the Ukrainian Armed Forces units at the front, liberated areas and hospitals where women and men wounded while defending Ukraine are being treated.
Ivanna Shcherbyna, Director of the Library of the Solomyansky District, has also been sewing flags since the outbreak of war in 2014 as part of her volunteer work for soldiers in the Ukrainian military. After Russia's full-scale invasion of Ukraine in February 2022, Ukrainian flags were urgently needed due to the increase in the size of the Ukrainian Armed Forces, for the purpose of marking units and equipment. The sewing of flags was done on a voluntary basis as part of the library's wartime activities. At first, the library staff bought the material themselves but later a chain of textile shops joined the volunteer work and supplied the material for Ukrainian flags in wholesale quantities.