Aleksandra Majdzińska wins 2023 Marek Nowakowski Literary Award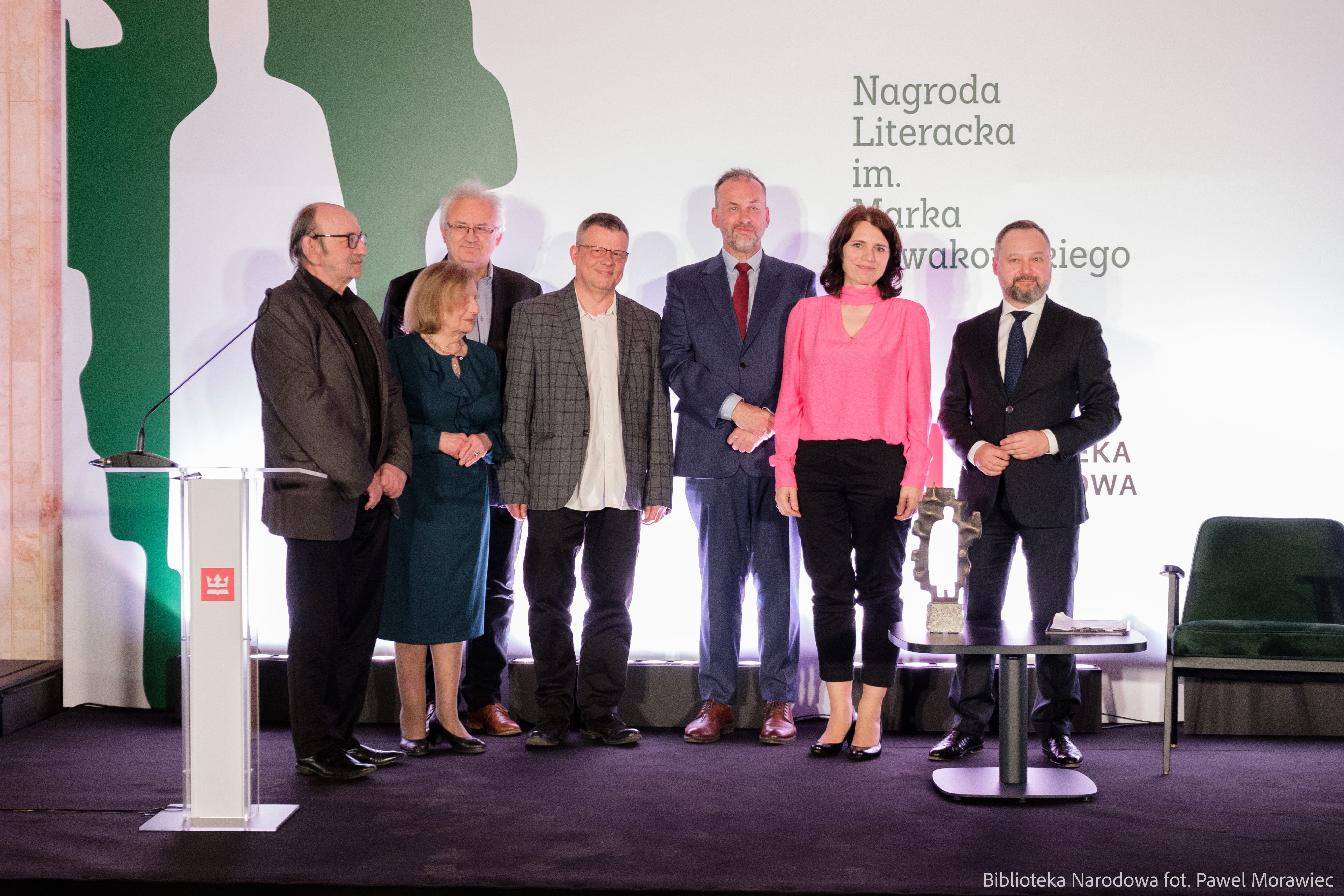 This year's Marek Nowakowski Literary Award was been won by Aleksandra Majdzińska for her book Szalom bonjour Odessa, an evocative portrait of the city before the Russian aggression against Ukraine, described by the author in a series of short, realistic pictures.
At the ceremony on May 14, 2023, which took place in the new reading rooms at the National Library, Aleksandra Majdzińska received a certificate and a bronze statuette designed and made by Professor Maciej Aleksandrowicz.
The laudatio was given by Wojciech Chmielewski, winner of the first Marek Nowakowski Literary Award and currently a member of the jury. Responding to the speech, Aleksandra Majdzińska thanked the jury for adding her to "the distinguished group of winners of the Marek Nowakowski Literary Award." She continued: "I would like to express my gratitude to my heroes: it is thanks to them that my books were written. A certain Armenian writer, a poet, wrote about the "people who the world carries on their shoulders" – the ones we read about on the front page of newspapers. But there are also people who carry the world on their shoulders, and those are the people I think I want to write about. […] As you probably know, I am from Pomerania, so I would like to end my speech in true Nowakowskian fashion: Pomerania is a place where nobody comes from nowhere. Everyone comes from somewhere – and that is what my next book will be about: Pomerania's identity."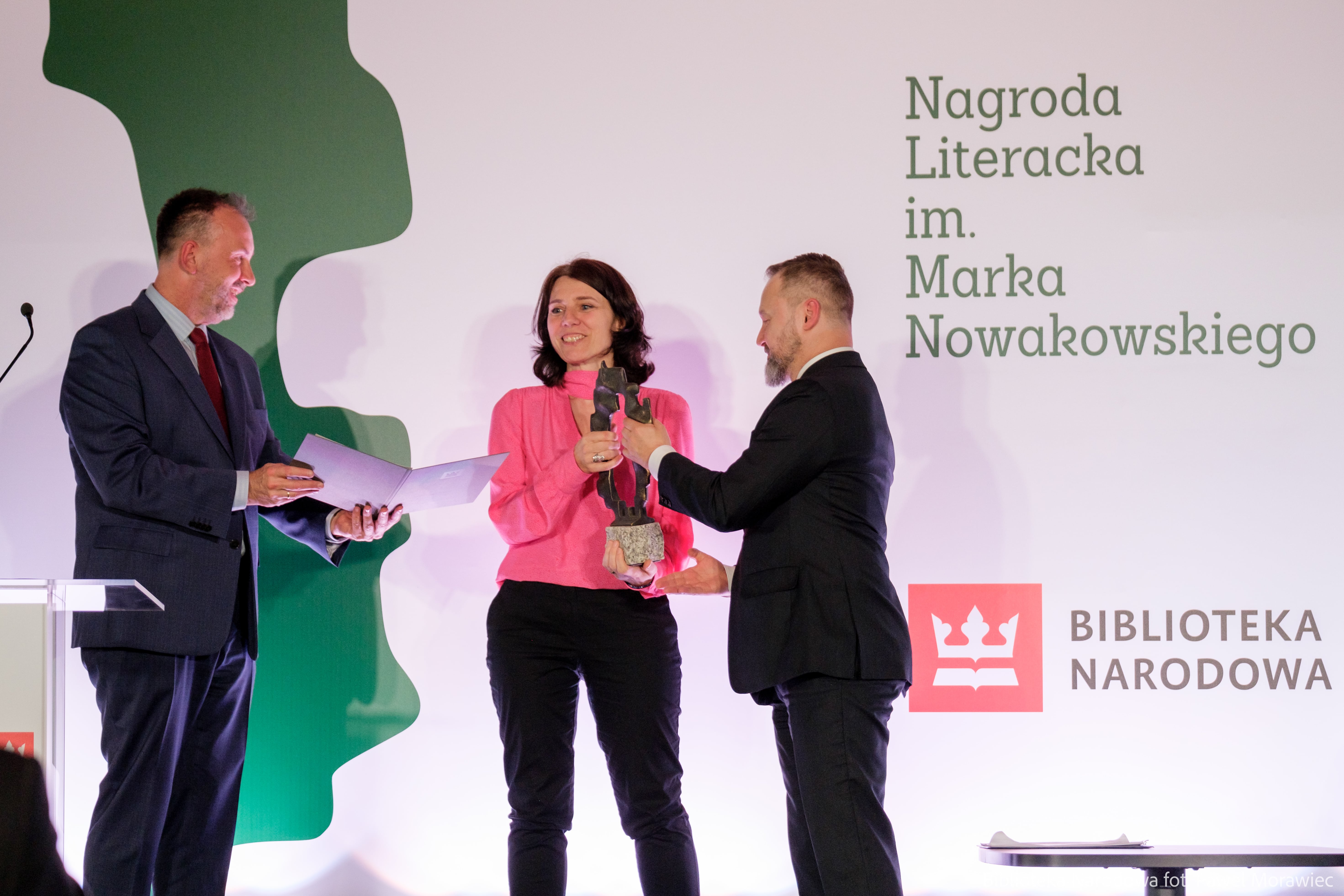 Professor Maciej Urbanowski, Chair of the Jury, and Dr Tomasz Makowski, Director General of the National Library, presenting the Award to Aleksandra Majdzińska.
Welcoming the guests, Dr Makowski pointed out that literary awards are one of the ways in which we commemorate outstanding writers, individuals who have shaped our identity and marked the boundaries of our linguistic imagination. Marek Nowakowski was, and remains today, one such writer. Dr Makowski expressed his hope that, thanks to the Award and its worthy group of Award-holders – a group that has now been enriched by a new member – the memory of Marek Nowakowski will continue to be kept alive.
Wojciech Chmielewski, winner of the first Marek Nowakowski Literary Award, drew attention to similarities between the winning author's prose and that of Nowakowski: "As I was reading Aleksandra Majdzińska's book Szalom bonjour Odessa, with its short, dynamic notes recording the life of a great city in real time, at one point I involuntarily thought of Marek Nowakowski's Notatki z codzienności, originally printed in samizdat form and later published in 1983 by Jerzy Gierdoyc at the Literary Institute in Paris."
Like Nowakowski, Aleksandra Majdzińska writes about a city that is unusual and personal to her. "The city portrayed by Aleksandra Majdzińska is different because times have changed, whole eras have passed," says Chmielewski. "Different people inhabit it, different Odessans, although they remain a melting pot of Ukrainian, Russian, Armenian and Jewish nationalities. In Odessa's still nascent capitalism, everyone gets by as best they can – one of the many jokes quoted by the author in the book is that in Odessa, they say Do you really have the money to behave like this? The heroine of the book Szalom bonjour Odessa finds herself in the city searching for traces of her father, who unexpectedly left his family and Poland many years earlier, moved to Odessa and was buried there. But the search for her father is merely a pretext for a realistic portrayal of an urban world which absorbs the protagonist to such an extent that after a while she somehow feels part of the great city that has welcomed and absorbed her. Listen to her song in honour of one of Odessa's streets: A metal door, ajar, and a sign saying "New Life for Old Objects", drainpipes stripped of their advertisements, stairs made of concrete, metal, wood, beautiful wrought-iron balconies, extensions hanging overhead wrapped in plastic panels, windows with bars and air-conditioning units, nests of cables, the geometry of yellow gas pipes, cellar stairs strewn with garbage, the year 1896 enclosed in the intricate arabesque of a courtyard gate, and behind it frozen flowers in painted tyres, rusty metal sheets under collapsing piles of planks, a bench made of wooden pallets, grapevines, washing lines with laundry on them, in the distance a parked car, and cats scurrying underfoot – your March Moldavian."
Although Szalom bonjour Odessa is only Aleksandra Majdzińska's second book, Chmielewski drew attention to her maturity and rich output, not only in writing but also in film. "Morkut i inne opowiadania, like the book Szalom bonjour Odessa, for which today's prize is awarded, bear witness to the birth of a realist writer who examines her characters closely, who is sensitive to the present day but also to history, who is interested in human fates, and who sees literature as much more than just entertainment or amusement."
Laudatio by Wojciech Chmielewski (full text in Polish)
The President of the Republic of Poland Andrzej Duda sent a letter to those gathered at the Award Ceremony in the new reading rooms at the National Library. In the letter, read out by Presidential Advisor Tadeusz Deszkiewicz, the President writes as follows: "It is wonderful that Marek Nowakowski's view of the world – his fascination with ordinary folk, with detail, with the commonplace – and his way of expressing his insights in a traditional, realistic, concise form has its continuation today, yielding excellent literary works, as shown by the Jury's choice of highly deserving prize-winners. I congratulate the Jury on their decision. At the same time would like to congratulate with winner of this year's Award, who now joins the select group of Award-holders".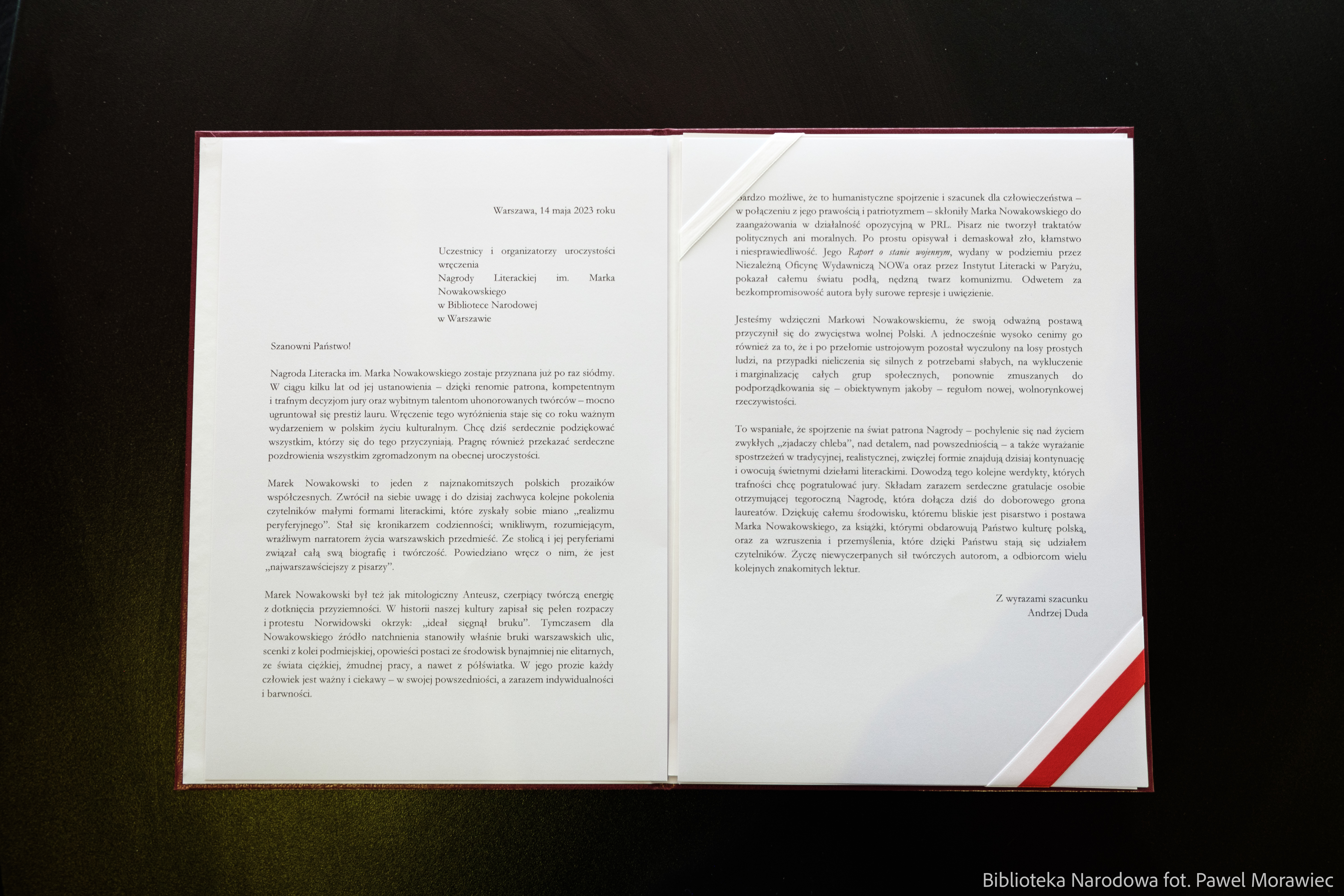 Letter from the President of the Republic of Poland to participants and organizers of the Marek Nowakowski Literary Award Ceremony.
The Marek Nowakowski Literary Award is awarded annually by the National Library to an author for a short story or series of short stories.
Aleksandra Majdzińska is an author and scriptwriter. Born in Słupsk in 1975, she studied philology at the University of Gdańsk and film directing at the Kazimierz Wielki University in Bydgoszcz. She also worked in Eastern Europe with the Polish diaspora as a teacher for many years. This experience influenced her literary work, which is often about coming to terms with history as seen through the prism of everyday affairs.
Her literary debut in 2019, Morkut i inne opowiadania [Morkut and Other Tales], won much acclaim from literary critics and readers, and was also nominated for the Marek Nowakowski Literary Award. Many of the stories in the collection focus on women, whose lives have always been interwoven with Polish history. The collection has also been published in a German translation.
Aleksandra Majdzińska's second book, Szalom bonjour Odessa, was published in 2022 and very well received. It is the story of a woman searching for traces of his father.
Majdzińska is co-author of the screenplay for the 2014 short film Mleczny Brat, directed by Vahram Mkhitaryan. The film won the Golden Apricot International Film Festival Award in Yerevan, as well as many national awards and prizes. Majdzińska was also nominated for the Jan Machulski Award in the category Best Screenplay.
Aleksandra Majdzińska is the recipient of scholarships from the Polish Minister of Culture and National Heritage, the Marshal of the Pomorskie Voivodeship and the Starosta of Słupsk Country. She has also won the Mieczysław Stryjewski National Literary Competition in the category Prose.
Previous winners of the Marek Nowakowski Literary Award:
Wojciech Chmielewski
Paweł Sołtys
Rafał Wojasiński
Marta Kwaśnicka
Wojciech Kudyba
Kazimierz Orło
The motto of the Award is the words of Marek Nowakowski "Nie jesteśmy znikąd" – We are not from nowhere/Everyone has roots.
Members of the Jury:
Maciej Urbanowski – Chair
Wojciech Chmielewski – Vice-Chair
Włodzimierz Bolecki
Janusz Drzewucki
Irena Makarewicz
Krzysztof Masłoń
Mateusz Matyszkowicz