Polish Libraries, Vol. 9 – latest issue of the English-language journal for the library profession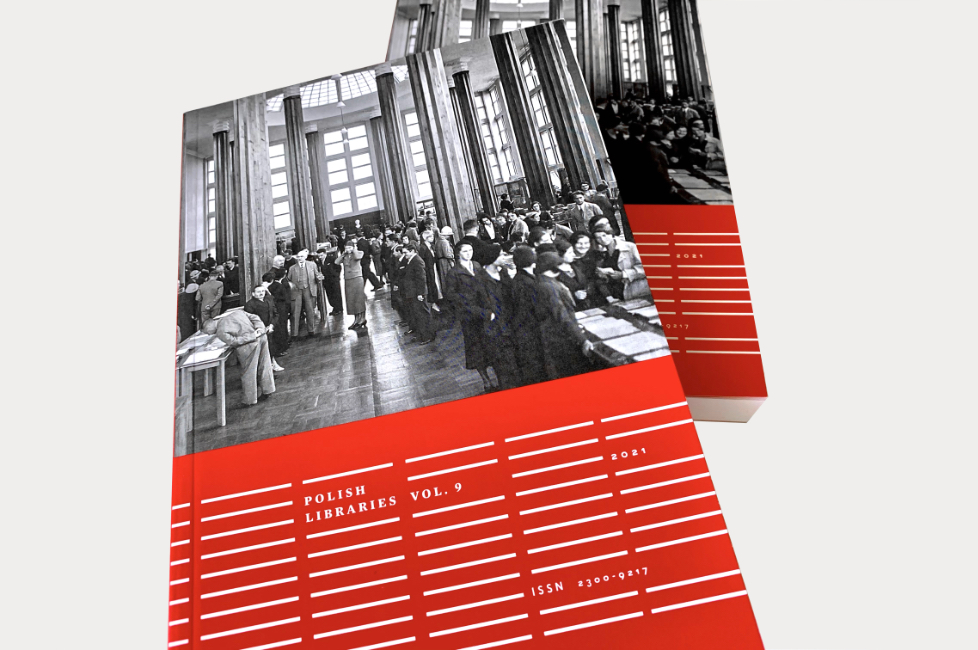 Polish Libraries is an English-language, peer-reviewed scholarly yearbook published by the National Library of Poland. The journal is devoted to a wide range of topics related to the collections of libraries, archives and museums – their history, development, cataloguing, conservation, interpretation, reception, and sociological and legal aspects. The latest issue of the journal – Volume 9/2021 – is now available
Last year was a particularly successful year for the journal. Having been evaluated as meeting the required standards for the reviewing and editorial processes of academic publications, it was accepted for inclusion in two major international databases of journals: Scopus, where it features in the list of newly accepted journals and is currently being indexed  and ERIH PLUS. The journal is also awarded 100 points in the current list of journals evaluated by the Ministry of Education and Science.
The latest issue of Polish Libraires contains nine articles. It opens with a paper by Professor Zdzisław Pietrzyk of the Jagiellonian University in Kraków, who was for many years Director of the Jagiellonian Library, on the history of the manuscript De revolutionibus orbium coelestium by Nicolaus Copernicus. An article by Adam Szczepaniec of the Jagiellonian Library discusses Adam von Gruttschreiber's little-known "friendship book" and its use as a source of information about the history of Silesia in the sixteenth and seventeenth centuries. Agata Pietrzak, head of the Department of Iconography at the National Museum of Poland, presents a catalogue of drawings belonging to Stanisław Kostka Potocki and its significance for the history of collecting, while a richly illustrated article by Professor Małgorzata Omilanowska-Kiljańczyk, Director of the Institute of Art History at the University of Gdańsk, discusses changes made to the building of the Polish Library in Paris from the perspective of the history of architecture.
Marlena Sęczek from the Workshop for the Documentation of Contemporary Literature at the Institute of Literary Research of the Polish Academy of Sciences contributes a biography of Jakub Goldszmit, Janusz Korczak's paternal uncle who emigrated to the United States, while Dr Monika Szabłowska-Zaremba of the Department of the Didactics of Polish Literature and Language at the Institute for Literary Research of the Catholic University of Lublin writes on the role of press photography as a source of narration about the Jewish community in the interwar period. Professor Mariola Antczak, head of the Department of Information, Library and Book Science at the University of Łódź, discusses the importance of publications by the American psychologist Jean Twenge for research into teenage reading culture. Professor Katarzyna Tałuć from the Institute of Literary Studies at the University of Silesia in Katowice analyses the correspondence of patrologist and Coptic scholar Father Professor Wincenty Myszor with various cultural and academic institutions, preserved in the Archdiocesan Archives in Katowice. The journal closes with an article by Dr Tomasz Makowski, Director of the National Library of Poland, on the principles for developing the collections at the National Library.
A full electronic version of Volume 9/2021 of Polish Libraries and all previous issues are available free of charge on the journal's website. Print copies may be purchased from the online bookshop of the National Library or at the premises of the National Library itself.